Home / News & Events / Endoscope Repairs: Reduce Cost Exposure, Optimise Serviceable Life and Mitigate Risk
28/02/2022
Endoscope Repairs: Reduce Cost Exposure, Optimise Serviceable Life and Mitigate Risk

Operating from our modern facility in Sheffield, Bolton Surgical offer a real and tangible alternative to OEM repairs and rigid endoscope auditing.
We invite you to choose a service provider who truly puts patient safety at the forefront of everything we do. Our performance indicators speak for themselves with year-on-year conformance levels of over 99.6% for our repair services!
Using best available technologies and equipment and the highest quality fully traceable materials, our highly skilled engineers take care of your assets as if they were their own.
Reduce your carbon footprint by choosing a Company with complete end to end repair, servicing and auditing capabilities under one roof. Operating from one UK location with in-house technical capability without the need for subcontracting, means full and complete control of your devices repair journey! Our open house policy welcomes you to experience the repair journey end to end.
Join our family, we've been sharing expertise since 1936!
Repair and Maintenance
Latest laser welding technology

In house manufacture facility for spare parts

Diagnostic testing and verification processes including Scopecontrol

OEM equivalent high quality optical and fully traceable spare parts

Quality management system certified to ISO 13485:2016 and NHS Supply Chain approved repair service

Simple, transparent competitive pricing

Easy transportation with seamless integration with instrument repair service or choice of stand-alone service

Service level agreement with regular service reviews

Discounts from our scope condition auditing services for repair customers

Dedicated on-site support coupled with an assigned Bolton co-ordinator to ensure smooth account management

12 month warranty on all repair work
Endoscope Condition Auditing Services
Let us come to you! Obtain a snapshot of your Scope Inventory Condition by utilising our Scope Condition Auditing Service!
Using the latest available technology brought together in one unit, ScopeControl is the only independent auditing device available in the UK today!

Our Endoscope Condition Auditing Service offers the following key deliverables;
Introduces a testing log, testing can be initiated with us on a set schedule determined by you

Produces accurate data on the condition of rigid endoscopes in circulation

Offers complete visibility of the scopes in circulation, enabling better management and reduced operating costs

Can aid and support budgetary planning, identifies the scopes that need repairing or replacing by means of a reliably repeatable testing system

Reports will create single source of data, such as inventory types, serial numbers, makes and models etc
Internal snapshots of each device are taken and saved against each test for each serial number and are included in reports as standard.
Our experienced operatives undertake a 5 point external visual inspection of the scope in addition to the internal inspection to ensure both internal and external defects are completely covered with each test.
Your assets don't leave site as we bring our service to you. If you are looking for a truly independent choice for Scope Condition Auditing then this service is for you.
We don't manufacture scopes! Our interest is purely in providing you with accurate technical data about your inventory.
To find out more including a sample of the reports available please get in touch with us.
In addition to our external visual inspection, your inventory will be tested on 6 key parameters;
Field of view

Colour correctness

View angle

Light fibres

Light transmission

Focus
Preventative Maintenance Services
Why not introduce a Preventative Maintenance plan for your Scope inventory?
Using your live data derived from the Scope Condition Audit, we will create a tailored plan to suit your exact needs taking a holistic view of your full Scope inventory to ensure we maximise uptime across the devices.
Turn your Scope repair process on its head and dramatically improve the quality of scopes in circulation, by systematically repairing scopes that test as Amber during our Auditing Service over an agreed period of time, ensuring that they are targeted and repaired before they fail.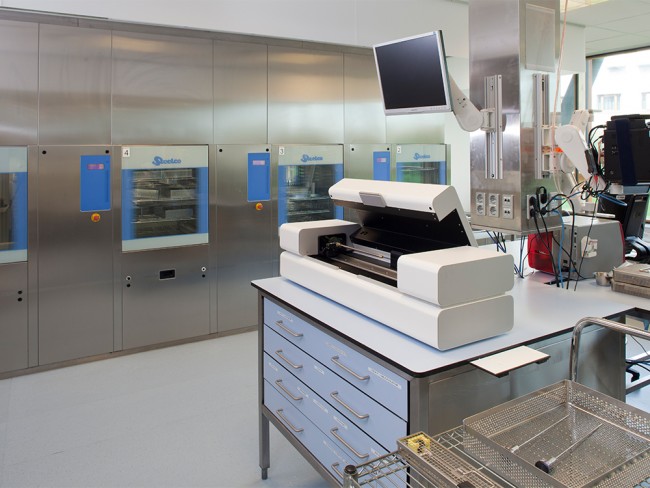 Complimentary Products and Services
Bolton Surgical offer a number of associated products and services to enhance our Endoscope Repair offering;
Supply, Testing and Repair of Fibre Optic Light Cables in many colours, bundle sizes and connector types

Supply and Repair of Sterilisation Baskets and Holding Devices

Testing and Repair of Sheaths and a wide range of Laparoscopic Instrumentation
We're here to help! We offer a seamless service for associated products, send your Endoscope together with its Fibre Optic Cable and we will test, repair or replace for you giving complete peace of mind.